Block paving (also known as brick paying) is a decorative method of creating a hard pathway or driveway. From a basket-weave to herringbone, you can create any pattern that could uplift the elegance of your landscape.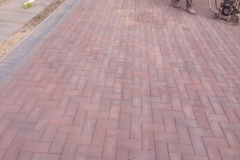 The best thing that you hardly find anywhere else is that, as individual bricks or blocks are used, you can easily remove bricks and replace them in case of something wrong with them. This is sort of flexibility is what makes block paying much the best option when it comes to creating a hard driveway or pathway.
Given a number of benefits over other types of material, block paving is today widely used for making a hard pathway. Be it driveways, pavement, patios, town centers, precincts and road surfacing, stone paving is what works best.
Blocks used to pave the patch come in different patterns and are made of concrete and clay. However, bricks are made using other materials also well. But those two are widely used because they are easy to use, durable, and perhaps the most cost-effective.
However, when you have to choose from the two, choose the one considering the area where you want to create a pathway. Also, how the pathway you want to create will be used. For example, whether payment you want to create is meant to receive large motor traffic or light foot traffic.  For a pathway that will receive vehicles, concrete bricks make a better choice. As concrete bricks or blocks are made using likes of hard stones and cement so they are strong enough to withstand touch condition. Compared with clay, they are more durable and also more suitable for if you need to create stronger bonds.
Also, the quality of bricks may depend to some extent on the manufacturers. Yes, as each manufacturer has its own set of parameters for making bricks, quality of bricks varies starkly from one manufacturer to another. The same goes with price.
So when you decide on block paying, do take time to choose bricks. Consider everything that you think you should like pattern type, purpose, budget, etc before you choose to buy bricks.
From choosing bricks to preparing the ground for final pavement, the process of block paving goes a long way.  But with us, one of the most reputed blocks paving consultants, you won't need to worry about anything. Whether it is sourcing quality bricks or laying them, we have a pool of highly experienced bricklaying professions who know how to do the job right.
Want to save a chunk of time? Reduce the cost? Or just want to enhance the elegance of your landscape? Just check here the benefits of our block paving services or get in touch with us in a way you feel more comfortable with.